Are your child and you ready for the new anti-Israel campus reality?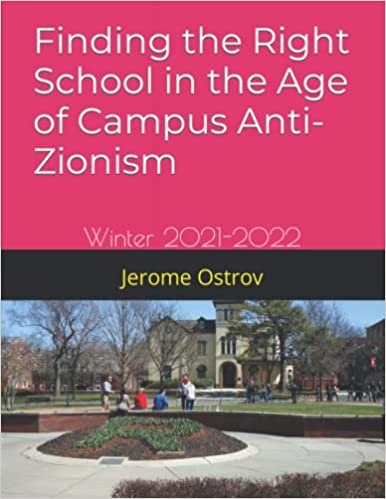 Across the country, Jewish students have had to fight for Israel's standing in their college communities, often at the expense of being shunned by otherwise progressive campus groups who have taken up the cause of demonizing and boycotting Israel. As one UC Berkeley student put it, "being a Jew on this campus is exhausting." At Pomona College, another Jewish student observed that "students feel like they can't be active as Jews, even with something as simple as having Shabbat."
Finding the Right School in the Age of Campus Anti-Zionism, by retired attorney and World War II novelist, Jerome Ostrov, addresses these concerns in a practical and informative manner. It is both an extensively documented essay on the anti-Israel BDS movement that has taken root at many of today's college campuses as well as a college guide for both Jewish parents and college-bound Jewish students.
The 700-plus page guide offers in-depth academic profiles for more than 125 schools that are among the most popular with Jewish students. In addition, using extensive journalistic source material, the profiles also address the level of anti-Israel sentiment at each school. With everything else that Jewish kids have to think about when they decide on a school, Ostrov's insightful guide, available on Amazon in a 650-plus page Winter 2021-2022 edition in both paperback and eBook formats, ensures that remaining within their Jewish comfort zone will not be an issue.
In addition to the paperback and eBook formats, the website also offers a free, online, 700-plus page Fall 2023 version of the Guide. The online version provides both a hyperlinked Table of Contents and a hyperlinked Table of Colleges. To navigate through the online Guide's Table of Contents and its Table of Colleges, merely scroll up. You will first see the Table of Contents and then you will see the Table of Colleges. When you find a topic of interest in the Table of Contents or a college of interest in the Table of Colleges, click on the corresponding page number and the hyperlinking feature will take you directly to the selected item in the Guide. Due to the length of the online guide, downloading make take as much as thirty to forty-five seconds. Continue scrolling following the interactive Table of Contents for the similarly interactive Table of Profiled Colleges.